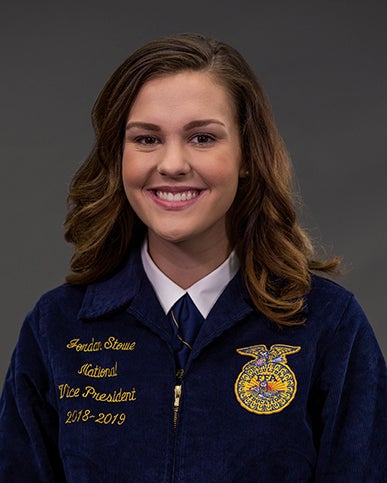 Jordan Stowe will be speaking at Opening Session, April 10, 2019.
Hometown and State:Enterprise, Ala.
Chapter:Enterprise FFA
Enterprise:Training and socializing service dogs for people with disabilities through Service Dogs of Alabama
State Office: 2015-16 State Vice President
Year: College Junior
Major: Agriscience Education
School:Auburn University
College Activities:Future Agriscience Teachers Club, Service Dogs of Alabama Puppy Raiser, Storybook Farms Agriculture Educator
Career Goal:To become an agriculture educator
.
When Jordan Stowe began taking a general agriscience class her sophomore year, she didn't know how much it would influence here. "My best friend inspired me to become involved in FFA,
and I began to compete in events such as extemporaneous speaking and nursery landscape,"
Stowe says. "I served as a chapter officer and then was elected as a state officer my senior year of high school."
While attending Enterprise High School, her supervised agricultural experience was training and socializing service dogs through Service Dogs of Alabama. Stowe was elected to the 2018-19
National FFA Officer team as southern region vice president at the 91st National FFA Convention & Expo.
Majoring in agriscience education, Stowe is a junior at Auburn University and served as the 2015-16 Alabama State Vice President.
"This year, I hope to meet as many members as possible and teach everyone I meet the importance of embracing who they are," Stowe said. "I also hope to learn about the different chapters across our country."